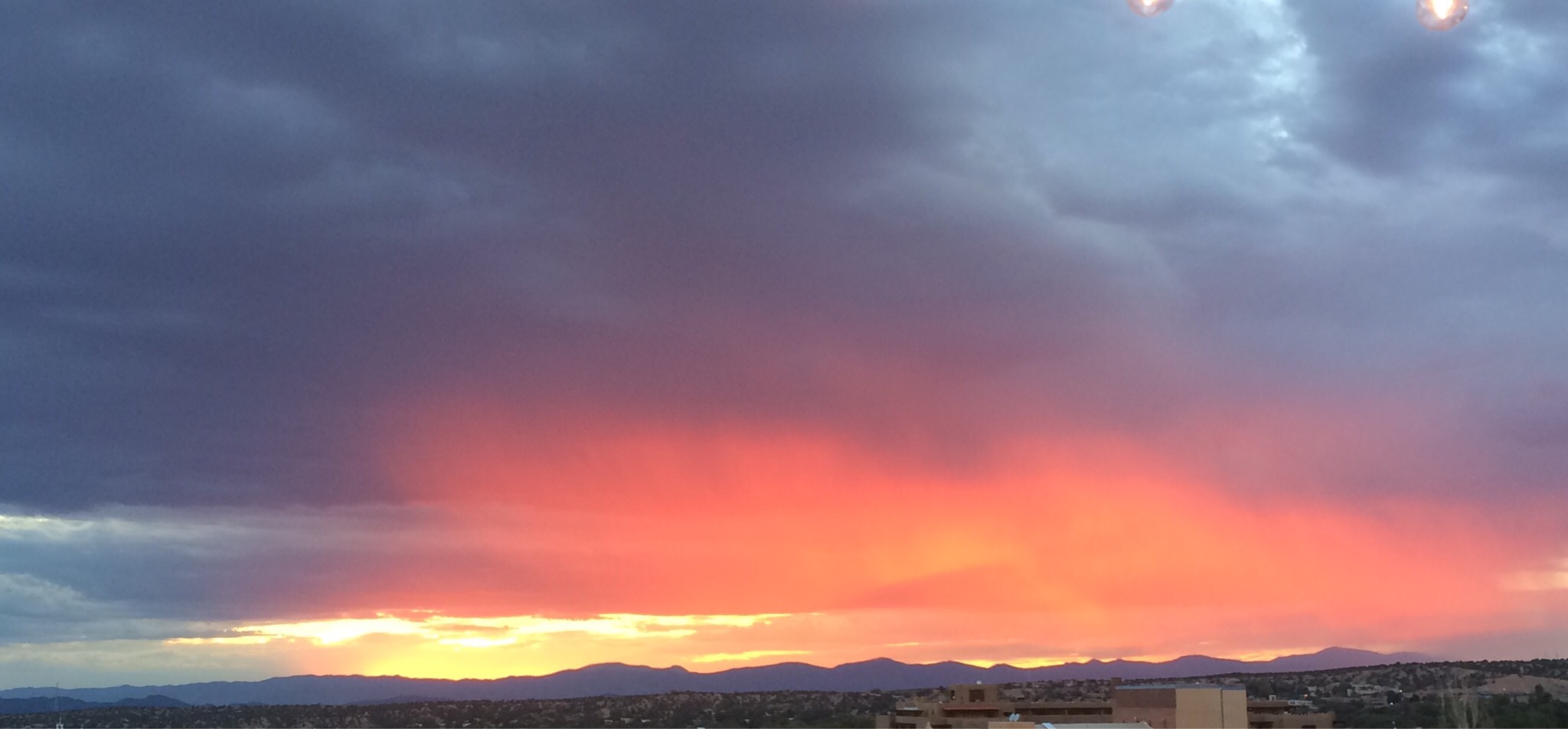 Serendipity in Santa Fe 
As Dreams of ancient landscapes and scents of piñon and juniper fill the air, we walk through a forest of tall cedars filled with twinkling lights in the center of the Plaza. Evening smoke awakens memories of villagers long past, gathered around campfires on cool New Mexico nights. 
I've had wonderful, magical, perfectly timed moments since arriving here. Riding the elevator to the La Fonda rooftop bar in hopes of catching a bit of sunset, rewarded me with the photo above! Amazing breathtaking colors flooded the Sky. Another day, just as I was crossing the Square, a parade of Spanish dancers made their way to the center pavilion, to mark the beginning of Fiesta Santa Fe. It has been celebrated here for 301 years, honoring the official settlement of the town. 
Hot summer days are cooled down in the late afternoon as monsoons swiftly cover the land. Thunderstorms roll through as everyone scurries to the nearest cantina. These are adventures that fill the soul. I'm in a foreign land without having to learn a new language. 
This is a time to slow way down, meet with friends of years gone by, and engage in mystical conversations with gallery owners and artists about their passions and transcendent experiences. 
These are the memories of a lifetime that fill me, nurture and renew me. Inspiration lives everywhere, from the distant mountains on the horizon to the brilliant sunsets that shift into star studded skies. An ancient land gives her gifts to we little ones just passing through. We honor her as thousands have, while church bells ring, wild breezes blow, and mariachis fill the air.