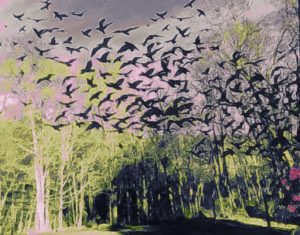 Ravens Circling and Calling by the Hundreds
I had never seen such a thing. Outside our back door, the sound was enormous as the masses of huge black birds circled and swooped over the treetops. I kept trying to look through the dark swirling wings to see the source of the excitement. Ravens are always so territorial, especially during breeding seasons, so to see them gathered together for some purpose was amazing. It's as though they were sounding the warning for all of us to hear that something was terribly wrong.
The Ravens came at midday, just about the time the throngs of Scientists were gathering to march on Washington, D.C. They, too, were raising the alarms of a threat to life, liberty, and happiness. I later read that ravens and crows will circle and call of dangerous predators in the neighborhood, with the major one being the Great Horned Owl. Many eyes are better than two. I have seen owls out during the daytime if they are hungry enough. A threat to the nest, the fledglings, and the family, they prey, just as humans with power prey on the rest of us.
Then that evening we watched the movie "Star Trek: Beyond", as though we needed the story solidified within our psyches. Unity of the Federation is strength against the mindless 'hive' of reactionaries. My final reinforcement came that night in a dream of a gathering of women in my home for a week-end of creating art. The Gathering holds the power. A beautiful concept to behold. Two or more gathered together can achieve major shifts in consciousness, and hopefully drive the predator, the threat to us all, back into the dark woods.
As I ponder all of these messages on Earth Day, I'd love to hear what's happening to each of you in these changing times. Experiencing any Nature connections, taking on any personal challenges to shift your energy, seeing any signs of a new path to follow? I'd love to hear from you in the comments below.
Spring Rebirth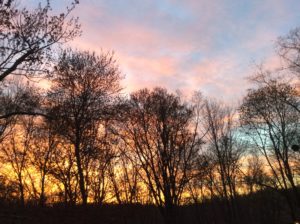 Interesting article about bringing more money and abundance into your life. We could all use more of that!