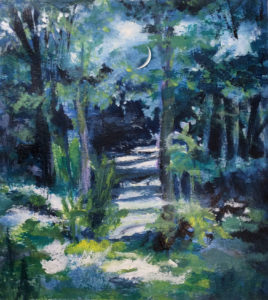 Gifts from the New Moon
As I'm creating my new classes for The Sensual Artist, I find I'm becoming more aware of life in all my senses. It's choosing Consciousness over Mental, awareness over mundane. Another layer lies beneath all that is obvious, and it's full of meaning, depth, and connections to the True Self. Colors appear brighter, air is fresher, touch & taste seem fuller, while birds, wind in the trees, or music sound clearer and deeper.
I also seem to be attracting more of what I call the Magic in life, the unusual synchronicity that stops me in my tracks and begs me to take a second look. A perfect raven feather, or a photo taken of our woods through a window creates reflections looking very much like a staircase of white leading into the forest. That became the above painting.
Then my Twitter account suggested I follow a very big name actor. Sure. I've liked him in movies, he seems like a good guy. The next thing I know, he's asking how I'm doing in a private message. We've had a few great conversations about art, movies, and teaching. I'm in awe that this is even happening and he says he loves connecting with his fans. Makes my day and broadens my perspective of everything!  My Mother would be proud!  But, it's as my daughter says, "Why you, Mom?". It's a mystery.
And yet another Mystery. I received in the mail an expensive, solid sterling, whole heart pendant on a chain. I call it the Whole Heart since it's a model of a real heart, aortas and all! It came from Shanghai, China, without a purchase slip or any info inside. This isn't something I would have bought for myself. I've checked 3 online shops that sell these, and they know nothing of this one. I haven't been charged. It's a mystery, a mistake, or a gift? An unknown filled with tons of meaning. It's made me more aware of my own heart, keeping calm, allowing blood pressure to relax. Everything is a metaphor for life. What is this one telling me? I'd love to hear your thoughts, first reactions. All you intuitives out there, let me know what you think.
What New Moon Magic have you experienced lately? It's all there, waiting to be seen.