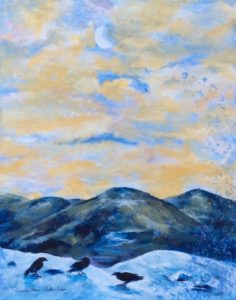 6 Ways I'll Go Deeper in 2018. This Morning feels like a Fresh Start to the New Year. Anything is Possible.
As the Full Wolf Moon of January wanes smaller on its path to becoming New Moon, this feels like a new day, a new dawn, an opportunity to find ourselves and begin a fresh new life. As the Sun shines soft and pale, with crescent waning moon hanging in the clouds, I find myself taking time to perfect my art, health, and connections. I'm pushing my paint to get the waves flowing in detail, concentrating on making the clouds that I actually see flowing in the dawn. Instead of learning yet another new technique, I take a breath and attempt to master the ones I 'know'.
The New keeps trying to divert us, like the shiny new toy with lights and music, but if we let it, we're drawn into what life hands us instead of shaping our Lives with Quality and Meaning. A lifetime of diversions distracts our focus of Being the Master of our Art. Going deeper gives a rich mindfulness that feeds the soul. Not superficial, it's like learning to play a complete song on an instrument and not just chords, or completing an entire chapter for a book instead of just pages. It's taking all you do seriously, and making it matter. It's going from the hobbyist to the pro. The Pros create e-books, lead healthy abundant lives, and share their ideas and thoughts.
How can I take all that I have, improve upon it, and then share it in a new way? Some thoughts I have about going deeper with my work and making it better, may not even be possible, but brainstorming ideas is a great way to start.
1. I'm looking at a way to augment my videos/classes into e-books. They would offer the video but also have detailed step by step images and explanations of color mixing, application, and layers for paintings that I've done. Each would be more in depth, detailed, and specific, like a class.
2. I want to push my art, my skills even farther by spending time on the details in paintings, the added elements that contribute to the feeling of the actual clouds, waves, eyes/hair/texture. This would be painting from the heart.
3. I want to take this blog of life thoughts and put them together in a heart's desire workbook available to everyone.
4. I'd like to update and offer a Daily Journal/Planner for spirit that I created years ago. It would be much like the ones I had while teaching high school. I believe a day to day planner keeps a focus each month, with added art for inspiration.
5. My focus will also be on eating well, staying healthy, and keeping my body strong and flexible. Exercise, yoga, and stretching must be a daily part of life.
6. I'd like to get deeper and richer at relationships, collaborations, and  affiliations. I seek my fellow adventurers and explorers to go in depth with all that matters in spirit and life.
How can you go deeper into your life? Can you make a list and add details for the areas that matter to you? Can you turn that into a belief and mantra that reinforce your focus every day? Give yourself the gift of becoming the Master of your Life in 2018.